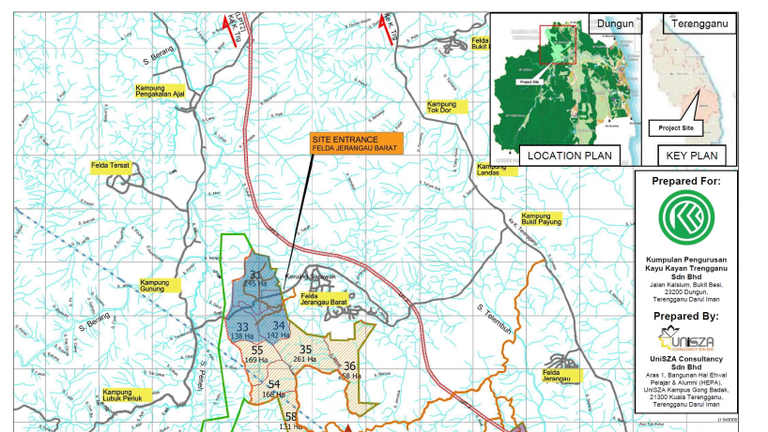 Projek Ladang Hutan Komersil di Hutan Simpan Jerangau Seluas 5000 Hektar (Fasa 1) Dungun, Terengganu
Logging and and commercial forest plantation project
Details
The project proponent (PP) propose a forestry development located between
N04°48'08.8", E103°07'21.0" and N04°54'58.8", E103°05'27.8" in Jerangau
Forest Reserve, Mukim Jerangau, Dungun District, Terengganu Darul Iman on a
5,000.00 hectare (12,355.27 acres). The proposed project area sited at
northwest of Dungun District nearby boundary of Hulu Terengganu District.
Jerangau Forest Reserved located at West Terengganu and was selected as
starting location for a planting commercial forest plantation project under
Kumpulan Pengurusan Kayu Kayan Trengganu Sdn. Bhd. (KPKKT). The
activities implemented under the current plan areas are; land preparation for
development of proposed planting area including access road, emit valuable
timber, etc., and development of planting commercial forest plantation.
Extractive Resources
Wood of non-coniferous species, in the rough (whether/not stripped of bark/sapwood)/roughly squared, but not treated with paint, stains/other preservatives of the following tropical woods:Abura, Acajou d'Afrique, Afrormosia, Ako, Alan, Andiroba, Aningré, Avodiré, Azobé, Balau, Balsa, Bossé clair, Bosséfoncé, Cativo, Cedro, Dabema, Dark Red Meranti, Dibétou,Doussié, Framiré, Freijo, Fromager, Fuma, Geronggang,Ilomba, Imbuia, Ipé, Iroko, Jaboty, Jelutong, Jequitiba,Jongkong, Kapur, Kempas, Keruing, Kosipo, Kotibé, Koto,Light Red Meranti, Limba, Louro, Maçaranduba, Mahogany,Makoré, Mandioqueira, Mansonia, Mengkulang, MerantiBakau, Merawan, Merbau, Merpauh, Mersawa, Moabi,Niangon, Nyatoh, Obeche, Okoumé, Onzabili, Orey,Ovengkol, Pzogp. Padauk, Paldao, Palissandre de Guatemala,Palissandre de Para, Palissandre de Rio, Palissandre de Rose,Pau Amarelo, Pau Marfim, Pulai, Punah, Quaruba, Ramin,Sapelli, Saqui-Saqui, Spetir, Sipo, Sucupira, Suren, Tauari,Teak, Tiama, Tola, Virola, White Lauan, White Meranti,White Seraya, Yellow Meranti
Resources Notes
Award Status
Award Date
Contract Period
Contract Period Start Date
Contract Period Start Date
Contract Period Max Extension Date
Parties
Kumpulan Pengurusan Kayu Kayan Trengganu Sdn Bhd (56141-K) timber and timber plantation company
---
Subitems
---
Natural Resource
Related to this extractive concession or license